I was in Grand Rapids last week to do an interview on WGVU about my newest mystery State University of Murder. The host Shelley Irwin is a terrific interviewer because she's so well-prepared and enthusiastic.
When we were finished, I stayed on to have even more fun. I crossed the Grand River to the Grand Rapids Art Museum (GRAM) and arrived when it opened at 10am. That's my favorite time for any museum at home or abroad because there's rarely a crowd and you can linger in front of a work without feeling like you're getting in someone's way.
I was lucky to grow up in New York Cuty where my parents took me to the Guggenheim, The Metropolitan Museum of Art, MOMA and others from as far back as I can remember. We went so often that I didn't just have favorite artists, I had favorite paintings and sculptures.  I've always found enjoyment, solace, and adventure in museums and especially love encountering artists I don't know or know only be name.  Or work by artists I admire but have never seen before.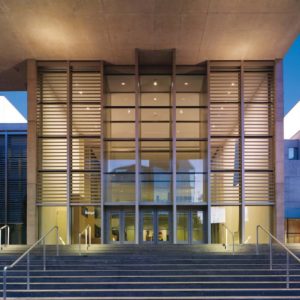 GRAM is in a spectacular modernist building that has the feel of a temple, and it's filled with light and attractive galleries for a collection spanning Rembrandt to Rauschenberg. Some years ago I saw a splendid Warhol retrospective there that made me appreciate the depth and range of his work, and I've also been to GRAM for the yearly international competition Art/Prize.
Last week, I was delighted to find a Rembrandt self-portrait engraving at GRAM because it reminded me of visiting his home in Amsterdam and all the times I've encountered his work in other museums here and abroad.  There were portraits everywhere that spoke to me, including the one below by Gilded Age painter William Merritt Chase.  His work has always appealed to me because I grew up in a Gilded Age apartment building and went to a public library built in the same period.  Seeing this "Lady in Opera Cloak" from 1893 also reminded me of the many Edith Wharton novels I've read.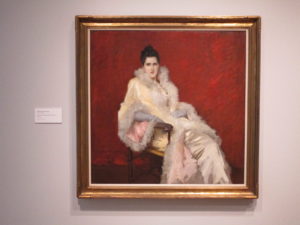 Sated in one way, I was hungry in another and I strolled a few blocks over to Bistro Bella Vita and had a terrific lunch. The restaurant is in a former factory, has high ceilings, wooden pillars, exposed brick walls and a soothing color palette of orange and brown with a dash of teal for contrast.  I felt great before I even looked at a menu.
My affable server was very knowledgeable about the food and wine without being pedantic.  I started with roasted Brussels sprouts that had a sauce with Greek Yogurt as its base. That may sound like an unlikely combination, but it was delicious. I moved on to seared gnocchi which were perfect, not too soft, not too dense. House-made, they came in a savory ragù of pork and Riesling, topped with fried sage. It was to die for, truly.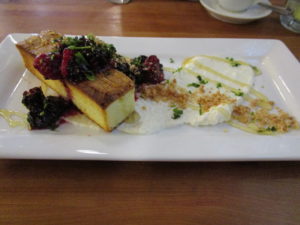 I was full but couldn't resist the olive oil cake which was airy and the lightest I've ever had–and beautifully presented as you can see above. Dining at this restaurant reminded me of fabulous bistro meals I've had in France, Italy, and Belgium, and I can't wait to go back to Grand Rapids for another grand meal.
Lev Raphael is a member of the North American Travel Journalists Association and his favorite city in Europe is Ghent.  He's the author of a memoir/travelogue My Germany and two dozen other books in a wide range of genres.  He teaches creative writing online at writewithoutborders.com.