This week Malcolm Gladwell was outed by the New York Times as a "blurb whore." The Times didn't actually label him that, but it's the term publishing insiders use for an author like Gladwell whose name appears promiscuously on book jackets.
The Times article revealed how often Gladwell blurbs books totally outside his own areas of expertise and that his name "adorns scores of book covers not his own."
If blurbing were an Olympic sport, he'd clearly get the gold.
"It's hard to compete with Malcolm Gladwell," said A.J. Jacobs, the author of four books, including The Year of Living Biblically, who was once such a prolific blurbist, his publisher demanded that he stop writing them. "He is always going to get the front cover. I get the back cover or, maybe, inside."
Gladwell's blurb helped make Freakonomics a best seller and publishers hope for similar success for their books when they enlist the nation's Blurber-in-Chief.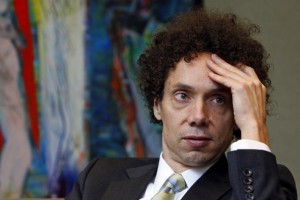 The Times reported that Gladwell hands blurbs out "like Santa," though he doesn't seem to care if authors are naughty or nice. No matter what the book's genre, it does seem to help, though, if there's a personal connection: "Many of the people for whom Mr. Gladwell has written blurbs he knows socially or has even dated."
But the personal apparently goes deeper than that.
When Jacobs wrote about his "blurbing problem" a few years ago in the Times, he said that Gladwell told him tweeting and blurbing were "conceptually identical: the short, targeted judgment in which the initiator draws attention to himself while seeming to draw attention to something else."
Blurbing is clearly an ego-boost and good publicity for authors writing blurbs, no matter how famous they are. Jacobs confessed in that article: "I get a thrill from seeing my name scattered throughout the bookstore."
His tone was less serious than Gladwell's, but the story sounds very much the same: "Me! Me! Me!"
Lev Raphael's books–from mystery to memoir–can be found on Amazon.
This blog originally appeared on the Huffington Post.