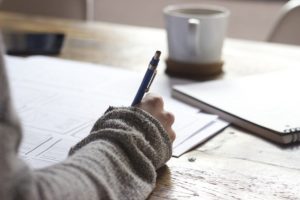 Fans often ask me if I go to writers' retreats. I never have and I've never really wanted to, because I live in one.

The mid-century house I bought over 30 years ago in a heavily-treed subdivision is extra quiet because it's dead center, even though there are some major roads nearby. That means you can't hear any road noise whatsoever whether you're inside the house or sitting out on the patio or the deck. There's also very little traffic through the subdivision itself, sometimes none at all. 

What you can hear is bird song of all kinds: chickadees, robins, finches mourning doves–and of course we see our share of hummingbirds because they like our Rose of Sharon trees. Oh, and I also hear people biking by, neighbors with strollers chatting on their phones, minor stuff like that that forms a pleasant soundscape.
Yes, there are lawnmowers in the Spring, leaf blowers in the Fall and snow blowers in the Winter. But as someone who grew up in New York, that seems close to silence. For a few years when I lived in Queens, I was directly under a flight path to LaGuardia Airport, and sandwiched between the roar of the Long Island Railroad and the craziness of Queens Boulevard. 
My street is lined with maples that form a canopy when they leaf out, and a sculpture garden when the leaves fall.  From my study window, whatever the season, I have a view of a tall, graceful Gingko tree. If you don't know this tree, they have succulent green fan-shaped leaves that turn a Napoleonic yellow in the Fall and can drop all in one day like gentle snow.  It has special resonance for me because there was Gingko near my elementary school in Manhattan.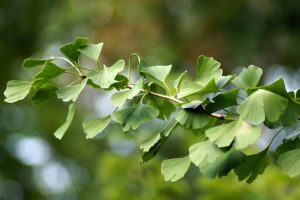 I can see the tree down at the base of the driveway while I write at my PC and while I make corrections on printed-off manuscripts sitting in my reading chair. It's just one of the majestic trees around the house and it symbolizes home for me.   As does the enormous oak at the very back of our yard which a former neighbor told us was standing here in the 1920s when a 400-acre farm was subdivided into lots for houses.  I like to do handwritten notes on a printed-off text outside looking  at that tree for inspiration.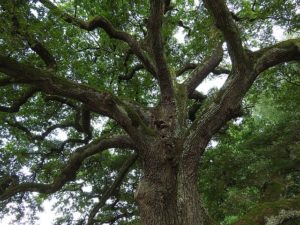 Growing up in New York, I had very little sense of the change of seasons, but here I can watch it change by the day–and sometimes change back,  because as people in many states say, "If you don't like the weather here, wait an hour."
The trees remind me that Michigan is where I became an author, not New York.
I experienced a five-year drought after publishing my first short story in a national magazine and it was only after moving to Michigan that the drought ended and my work started being accepted again.  I apparently needed a major change of scene to blossom. 
In Michigan I was fully free to become the writer I turned into, someone multiply anthologized, publishing across genres, taking the lessons my college writing mentor gave me into the classroom at Michigan State University and then beyond.  I now work with writers online at writewithoutborders.com, mentoring, offering individualized workshops, editing manuscripts of all kinds, and enjoying an even greater level of freedom than I had before.
I know that one of the appeals of a retreat is escape from where you are, but I don't need that.  And people also go to commune with other writers, but I had that intense experience for two and a half years in my MFA program and I've hung out with writers at numerous conferences across the country.  I once interviewed Julian Barnes and asked who his writer friends were and he said, "They're next door, in my library.  They're my oldest friends."
The books in the shelves around me in my study–biography, history, fiction– inspire me as much as the quiet of home.  This is where I've taken root. 
Lev Raphael is the author of 27 books in a dozen genres ranging from memoir to mystery.  His most recent book is Department of Death, which Publishers Weekly called "immensely enjoyable" in a starred review.
(Gingko image by Marzena P. from Pixabay)
(Oak image by Csaba Nagy from Pixabay)