It happened to Harlan Ellison who was one of our most prolific and influential science fiction writers. He published 1700 short stories and over 50 books, writing scripts for Outer Limits and Star Trek among other shows. His work influenced James Cameron when he filmed Terminator, and that's just a start when it comes to his cultural impact.
But when Ellison attended Ohio State University, a professor passed judgment and said he had no talent for writing. Irascible even as an undergraduate, Ellison punched his professor and was expelled.
I'm not defending Ellison's response, but if you think a professor wouldn't feel the need to be so harsh and unequivocal you'd be wrong.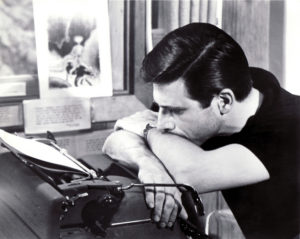 I've known creative writing professors who treat students like dirt. One was notorious for humiliating students by telling them their work was "shit." He could make students cry or tremble with fear. Another would only let favorite students read aloud, clearly sending the same ugly message to everyone else in her class. These professors are not anomalies: I know from sources across the country that dissing student writing is a commonplace in creative writing workshops at the undergraduate and graduate level. A good friend was told she would never publish because she apparently hadn't "suffered enough." Soon afterwards, she had a story accepted at a fine literary magazine.
I loved the community of writers in my MFA program, but got poleaxed by a professor. A story that I thought was a breakthrough was demolished by my workshop, and then the professor delivered the coup de grâce. He said it was nothing new and the kind of thing I could write in my sleep.  It was devastating.
A few weeks later it won first prize in the program's writing contest which was judged by a famous editor. When I shared the brickbats from my workshop, she growled, "Don't change a goddamned word!" I then sold it for a lot of money to Redbook, which at the time had 4.5 million readers, and the story launched my career as an author. My professor's comment at the next workshop? "It's still shit, but now it's shit with a prize."
Taking writing workshops to develop and hone your craft is a good idea, but not everyone commenting on your work comes from a pace of creative nurturing and encouragement–or even neutrality. Too many of them want to tear you down for whatever twisted reasons of their own. You don't have to punch out your professor or anyone who disparages your work, but it's wise to listen to all criticism with your shields up, as if you were in Star Trek. Remember what Kirk says to Sulu: "Steady as she goes."
Lev Raphael is the author of 25 books in many genres, including the guide for writers, Writer's Block is Bunk. You can take writing workshops with him online at writewithoutborders.com."Studying creative writing with Lev Raphael was like seeing Blade Runner for the first time: simply incredible."—Kyle Roberts, MSU