Though I'd been publishing stories all through the 1980s, it wasn't until I was in my first anthology in 1988 that I started getting reviewed and meeting fans on a wider basis.
I was at an awards banquet in D.C. and the first person I ran into as I walked to the the banquet hall was one of my favorite authors, novelist Edmund White.  I told him how much I enjoyed his work and when he asked my name, he said, "Oh, I loved your story" and went on to talk about it in laudatory terms.  He dilated about career and getting started, warned me against dissing my peers in public, and when I said I was headed for Paris told me to look him up there.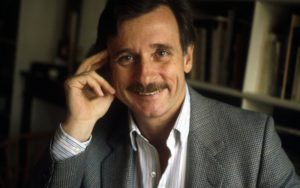 I was just starting out, and soon I would be publishing books on a regular basis, getting reviews, doing radio, print and TV interviews and living the author's vida loca.  I met fans all the time, often in large numbers.  It was always deeply humbling.
The coolest moments, though, would be the unexpected ones. no matter who the reader was.  Sometimes someone at an airport while I was on a book tour would come over to say they recognized me from a newspaper or magazine interview and tell me how much they liked a book or  a particular story.  Or I'd be having dinner or lunch by myself and a server would say, "Aren't you–?" and thank me for whatever book meant something to them.
It's continued to happen closer to home, too.  The other day I was checking out at a grocery store and a woman walked by said "You probably don't remember me–"  But I did because she'd gone to a recent writing conference I keynoted.  She'd bought a copy of my first book of stories, which came out in 1990.  "I didn't know if I would connect to them or not, but I did.  To all of them!"  She said she could never imagine readers connecting to her work like that.
I laughed:  "Every writer worries about it.  You just have to keep writing and find the heart of your work."
I was tired that morning, but I left the store feeling great.  Yes, I've gotten standing ovations from crowds of 500, and awards, and sold my literary papers to a university library, and gone on book tours in Europe, and been reviewed in the New York Times more than once–but this brief conversation reminded me why I started to write so many years ago.  To touch readers, one by one by one.
Lev Raphael is the author of 25 books in genres from memoir to mystery and you can find them at Amazon.