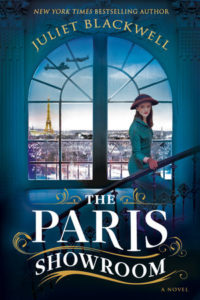 This historical novel builds on fascinating, horrible facts. While plundering the belongings of deported or imprisoned Jews, rich and poor, the Nazis in Occupied Paris "processed" their goods in three locales, including the Lévitan department store. 
Anything valuable that officers, their wives or mistresses might want was displayed and the rest sent off to Germany, no matter how prosaic an item it was.  Damaged goods were repaired for the greater glory of the Reich and personal effects like letters and photos were burned.
The 800 prisoners forced to do this labor lived in appalling conditions and the author makes their plight very vivid, but that's one of the book's few strengths.
I really wanted to love The Paris Showroom because I've read hundreds of books over the years, fiction and nonfiction, about WWII, including books about France during the Occupation. 
But I couldn't. The dialogue too often seems American and contemporary, with characters saying things like "Whatever" and "True that" and "Beats the heck out of me."
Then there's an apartment house concierge who sounds like a 2022 guru or life coach and far too wise.  Worse than that, one of the two main heroines seems unbelievably naive and uninformed: though she's twenty-one, in 1944 she still doesn't understand how or why the war started (!) or what the Occupation really means. Her questions can be unbelievably dim and it's hard to root for someone so out of touch with reality.
Blackwell also gets some things wrong like the French name for The Phony War, that period from September 1939 and April 1940 when there was virtually no fighting on the Western Front.  How could she have missed something so basic?
Another error that's hard to comprehend from a seasoned author: She says the Jews wore "golden stars." Not remotely: it was a Yellow Star. I suspect professional historians might find even more problems than I did. 
Though she peppers the book with bits of French for atmosphere, Blackwell for some reason uses the English "huh?" rather than the French "hein?" which you'd get from context. And rather than use "bibelot" she employs the very popular American word from Yiddish "tchotchke"– but doesn't quite get its meaning right either.  The book is filled with choices like this which you would expect a careful editor or copy editor would have caught.
While there's a touching family reunion in The Paris Showroom, that and almost everything else in the book is often overshadowed by minute details about fan making.  Don't ask.
Lev Raphael is the former crime fiction reviewer for the Detroit Free Press and author of 27 books in genres from memoir to mystery.  His work has been translated into 15 languages and he coaches, mentors, and edits writers at https://www.writewithoutborders.com.