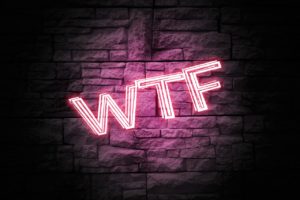 When you publish a book, it's open season. Nobody tells you that being published gives total strangers license to say outrageous things to you that you could never imagine saying to anyone.
I'm not just talking about people who've actually bought your book. Even people who haven't read your book feel encouraged to share, in the spirit of helpfulness.
Now at first, when you're on a book tour it's surprising, then tiring — but eventually it's funny, and sometimes it even gives you material for your next book. All the comments on this list have been offered to me or other writer friends in almost exactly these words:
"I liked your book, but I hated the ending."
"Your characters shouldn't be so nice."
"Your characters should be more likeable."
"You need more sex in your books."
"There was too much sex in your book."
"The book doesn't make sense unless there's a sequel."
"You used too many words I had to look up."
"Too bad you're not better known."
"It was fun but it'll never sell."
"My bookstore doesn't carry any of your books."
"I found some typos in your book — you should fix that."
"I'd like you to write my book."
"Ewww.  What's up with that cover?"
"Can you tell your agent about me?"
"You have a way with words."
"Why does your English professor character quote books?"
"Your stories are too short.  Did they leave something out at the factory?"
"You need to put a nice lesbian in your next book!"
"I have a 2,000 page manuscript, I think you'd really enjoy editing it for me."
Lev Raphael is the author of 27 books in genres from memoir to mystery.  His latest is Department of Death, which Publishers Weekly called "immensely enjoyable" in a starred review.
(Free image from Pixabay)