Memoirs can be difficult to write, and in Sir Oswald Newbold's case in 1910 Singapore, writing a memoir turns deadly.  As befits a classic mystery, he's found dead in the first chapter, and the hunt is on to track down the murderer and find out what Newbold could have written that guaranteed his savage murder.
Newbold retired in Singapore to escape England's "miserable weather and miserable people."  What secrets was he going to reveal in his book?  Whom would he expose, and why?
Taking the field to find out the truth are dashing Inspector Robert Curran and intrepid Harriet Gordon, a stenographer and typist who has left England under a cloud. Gordon has suffered deep personal loss and abuse.  Part of the enjoyment in this mystery is watching her rise above her grief to find new meaning in life.  We also experience the difficulties and beauties of living in a tropical climate mainly through her eyes, and the vision is never less than fascinating.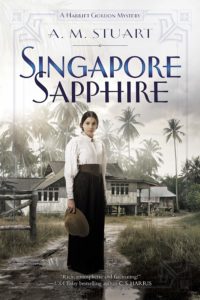 The cast of minor characters is as colorful as those you find in Christie's Death on the Nile and Evil Under the Sun.  Like Christie, Stuart makes them all vivid and unique.
The author also has a terrific eye for detail.  Because she's lived in southeast Asia and her father served there in the British army, Stuart can evoke last-century's Singapore with great skill.  She makes you feel the heavy humidity and lashing rain, you smell the frangipani and mangroves, you can see the glorious heavy blooms of Bougainvillea.  This Singapore is truly "a place of extremes."
But Stuart doesn't just paint scenes to perfection, she honestly portrays a colonial society with its prejudices and blind spots.  It's matched by an  England where women were denied the right to vote and suffragists in prison were tortured by being force fed during hunger strikes.  Bringing those two worlds together is part of what makes Singapore Sapphire so compelling.
Mysteries are sometimes derided as "escape fiction" or "escapist," but all literature, from Tolstoy to P.D. James, helps you escape your own life and time to travel somewhere fascinating.  If it's well executed, of course.
With just the right touch of romance, Stuart has written the ideal mystery for armchair travelers and for fans of the genre in its classic form.  Her heroine is bright, resourceful, compassionate; her hero a sterling and indomitable character; the villains are as devious as they should be.  But nobody is a caricature or paper thin.
Singapore Sapphire is clever, well-paced, complex, and deeply moving.  It has everything needed to make a splendid TV movie or even a miniseries.  This is a book to revel in for its local color and its crafty plotting.  No doubt there'll be more Harriet Gordon adventures, and she's a welcome addition to the current roster of sharp-eyed amateur sleuths.
Lev Raphael teaches creative writing online at writewithoutborders.com.  The former crime fiction reviewer for the Detroit Free Press, he's the author of nine mysteries and fifteen other books in many genres.