I started a mystery series in the 1990s thanks to my absurdly well-read, multi-lingual mother. When I was publishing literary fiction in the 1980s, she had surprisingly urged me more than once to write for a wider audience. She was right, though it took me a while to see that. Once I did publish mysteries, my audience grew and so did my name recognition.
She had filled me with a love of all kinds of books as a child by reading to me, helping me learn to read myself, getting me a library card early, and taking me to our Beaux Arts library every week. She never forbade me borrowing any book no matter the subject or reading level, and she mocked the juvenile reading assignments we had at school. Sometimes she even mocked my teachers themselves. Born in St. Petersburg and raised in Poland, she spoke English better than a few of my native-born teachers and she was a scathing critic of their pretensions when she returned from parent-teacher conferences in elementary school, especially the one who tried speaking French to her because my parents had lived in Belgium for five years. When that teacher had asked her something in (awful) French, my nonplussed mother reported saying, "Excuse me? What language is that?" It was delicious to feel part of a conspiracy with my mother, and I think I was already learning something about appearance, reality, pomposity, and satire that would help me years later in my mysteries.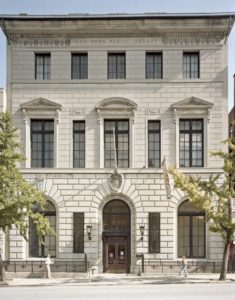 (my first library on West 145th Street in Manhattan)
This erudite and witty Holocaust survivor who loved Thomas Mann, Tolstoy, Aldous Huxley, Balzac, and Stefan Zweig also adored mysteries. Devoured them. She read mysteries with the devotion she gave to the Sunday New York Times crossword puzzle, which she said had helped her perfect her English once she got to the United States. I suspect it might also have helped her face the puzzle of her own life, her miraculous survival when so many dozens of her family members had perished or been murdered during the war.
On a typical day, the shelves in my parents' bedroom where she kept her library books would have a wide range of mysteries, and thanks to her, I discovered Agatha Christie, John Creasey, Maj Sjöwall and Per Wahlöö, Daphne du Maurier, and Phoebe Atwood Taylor–a very eclectic bunch, no?
My mother was also a splendid, unpretentious cook. She had grown up somewhat privileged in northeastern Poland in a bourgeois-intellectual family with a maid, and had never prepared any food for herself, not even a cup of tea until after W.W. II—or so my father claimed. Whatever the truth of that, her cooking was deft and never called attention to itself. She casually cracked eggs with one hand, stirred bowls like a magician casting a spell with his wand. Her omelets were miraculously fluffy, her cakes and cookies the envy of my friends. Though she couldn't sing or dance, she was at her most elegant when she cooked or baked, despite our small Washington Heights kitchen.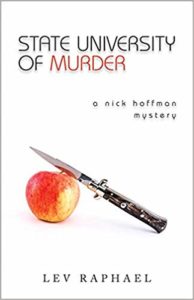 When I started my mystery series, I quietly dedicated it to her, though she would never be able to read any of it, because by that point she had drifted far out onto the sea of dementia. I made my narrator, the besieged professor Nick Hoffman, a foodie and a book lover. I also made him something of an outsider since he's a New Yorker in Michigan. In another private nod to my mother, I gave Nick in-laws who were refugees from Belgium. Lines that my mother had said or might have said weave their way through the series in silent tribute.
Someone who idolized that paper, she would have been proud to see my series reviewed in the New York Times Book Review more than once. I hope she would have recognized herself in this line from one of those reviews: "Nick Hoffman mows down intellectual pretenders with his scathing wit….the idiocies of academe always bring out the caustic humor that is the best part of him."
My mother was the child of revolution, born to a Menshevik father who had to flee St. Petersburg when the Bolsheviks seized power. Through my childhood and adolescence, I watched her endlessly discuss history, politics, and state power with neighbors and friends. Her perspective on international affairs was informed by her deep reading in current events and her encounters with Soviet and Nazi brutality, but that didn't mean she had lost her sense of humor. She once quipped that Spiro Agnew's droning speeches reminded her of "Stalin on a bad day." And she noted that a week before Stalin died, she had toasted to his demise at a party of Holocaust survivors. "It worked! Maybe I should have tried that sooner?"
She loathed Nixon and the Vietnam War and had made plans to get me to Canada should I be drafted. I know she would be appalled by the growth of our national security apparatus and the way it's trickled down to local police departments who have become obscenely militarized. I wrote Assault with a Deadly Lie, due in October, with that massive cultural shift and my mother very much in mind. It's the darkest book in the series. Nick Hoffman's academic world is invaded by stalking, harassment, police brutality, and much more. In a way, this book is not just a continuation of the series, it's a continuation of the conversation I've been having with my mother ever since she stopped talking to anyone back in the early 1990s, ever since that voluble, highly intellectual woman disappeared into silence. She may have been dead now since 1999, but in my mysteries, this one especially, she's profoundly, beautifully alive.
Lev Raphael is the author of 26 books from memoir to mystery, most recently State University of Murder.  His next online creative writing workshop is Mystery Writing 1.0 and runs for the month of June.  This blog originally appeared on the Mysteristas site.