I'm lucky to have had three sponsored book tours in Germany, a country I surprisingly fell in love with, given that my parents were Holocaust survivors.
I was touring for several books including a memoir, My Germany, and I always had a terrific time, especially with my hosts in one city after another.  I admire the serious book culture that exists in Germany and how authors are respected as cultural figures. I love the comfortable trains and the train stations with good food, great bookstores, and cheerful-looking flower shops.
But I found certain things about traveling in Germany quirky, and that's actually a good thing, because a book tour can be exhausting with the constant change of scene and because you're working so hard.  Without a sense of humor, you can really get worn down.  Noting cultural differences is a fun distraction–and educational, too.
Those same great trains and train stations have been a consistent source of amusement for me. No matter where I am or what train I'm on, even though an announcement might be delivered in German and English, the speaker always leaves out important content in English. The German announcement will apologize for a train being late in German but that won't be repeated in English, and forget hearing anything about connections or even whether there's a bistro or restaurant on the train. Without knowing German, you can miss a lot, and let's face it, plenty of foreigners travel on Die Bahn.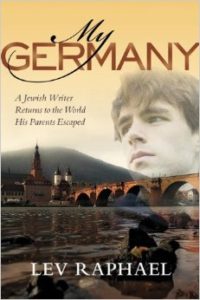 Hotels of all sorts there are a puzzle. Why are so many German beds so low to the ground? This isn't a country prone to earthquakes — they really don't have to fear falling out bed, do they? And what's with German pillows? They're mostly as soft as rags, which is why the hotel staff can arrange them in pretty shapes on the bed (triangles seem to be popular). Usually I need a handful of them to make for a somewhat restful sleep, or the hope of one.
The beds are low but the showers are high. You almost always have to step up into the shower or bath tub which admittedly isn't a big deal. But the dismount can be tricky when you're all wet. And why are German toilets high, too? Are you supposed to be having elevated, philosophical thoughts on the throne because you're in the land of Goethe?
Maybe so. Let's face it, Germany is Goethe-crazy. On one tour I ate at a Heidelberg restaurant Goethe mentioned in one of his journals, and the restaurant noted in its publicity material and in a mural on its wall that he almost slept at the inn there way back when. Almost.
But even Germans make fun of their Goethe worship. In the university town of Tübingen, there's a plaque indicating that Goethe puked there. What's even funnier is that plenty of American tourists don't realize it's a joke.
Lev Raphael loves travel and speaking foreign languages.  He's the author of twenty-five books in genres from memoir to mystery, and teaches creative writing online at www.writewithoutborders.com.