That's right.  Your role in contributing to climate chaos isn't just based on the SUV you drive that gets crappy gas mileage, or the plastic bottles you keep buying, or the ways you waste energy at home.  A key component is the jeans you just can't stop purchasing.
You're probably wearing jeans as you read this–half the planet does on most days.  That's according to the eye-opening new book Fashionopolis which explores the global clothing industry–an industry that employs one out of six people around the world–and how it's contributing to environmental catastrophe.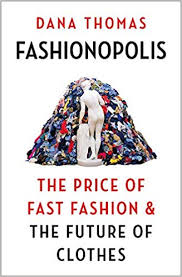 Jeans are made of cotton, a crop that requires vast amounts of water and pesticides.  Making jeans and stone washing them to create various levels of chic also involves far more water than you can imagine, with the attendant waste and pollution from the chemicals needed to dye them added to the toxic mix.  And it's not just drinking water that this overpopulated planet is running low on–it's water used in manufacturing "fast fashion," throwaway clothes.
But you love your jeans, right?  They're popular, comfortable, fashionable, and many brands are cheap.  That relatively low average cost contributes to environmental degradation and fosters inhumanity.  Just like five-dollar t-shirts, jeans are often made by grossly underpaid, maltreated workers in Third World countries. Many of them are locked into factories behind guarded, barbed wire fences and work in conditions as deplorable and unsafe as early 19th century sweatshops were in New York.  Maybe even worse.  Fatal fires, illnesses, building collapses are endemic in that garment gulag.
Journalist Dana Thomas is an expert, knowledgeable, riveting guide taking us from Bangladesh to Belgravia to Brooklyn as she explores the role of jeans, the garment industry, and the global clothing supply chain and how it's all strangling our planet.  In colorful scenes, portraits of key figures in the world of fashion, and insightful interviews, she brings to light how "fast fashion" like the clothes sold by Zara is choking our air, dirtying our water, and filling our garbage dumps.
Yes.  The number one item in dumps around the world is clothing that people have worn maybe just once and then tossed because they wanted something new right away.  Think about that the next time you buy something just to photo yourself wearing it for Instagram and pitch it the next day.
During her travels around the world, we learn how the ever-expanding use of cotton has revolutionized and poisoned the world, how the indigo plant lost out to dyes because they're cheaper, how NAFTA has made the situation worse, and how workers have suffered illness, injury, and even death.
Is there hope?  Hell, yes.  Sustainability is a concept slowly taking hold in Fashionopolis, as is slow fashion, "a growing movement of makers, designers, merchants, and manufacturers who, in response to fast fashion and globalization, have significantly dialed back their pace and financial ambition, freeing themselves to focus more on creating items with inherent value, curating the customer experience, and reducing environmental impact."
Thought-provoking, thorough, revelatory and darkly entertaining, this is a must-read book for anyone concerned about climate change.  It might make you consider joining an environmental action group like Extinction Rebellion.  At the very least, it's bound to make you think harder about what you wear and why you might be making choices that have global consequences.
Lev Raphael is the author of 26 books in genres from memoir to mystery.  He's reviewed books for Huffington Post, the Detroit Free Press, the Washington Post and other publications as well as on public radio stations in Michigan.