When I teach creative writing classes, I assign fiction in different genres to inspire and stimulate the students. They're almost always books I've learned from myself as a writer and that I think have a lot to offer to new writers. I need to enjoy a book intensely or I won't be able to share that enjoyment with students and offer the book up as both pleasurable and instructive.
I've had students in a handful of creative writing classes read Charlie Houston's hilarious, blistering Already Dead and the response is always positive. I've read it half a dozen times at least and I never get bored.
It's a sizzling mix of mystery, thriller, zombie, vampire, and private detective novel in which Manhattan is secretly divided up by different vampire clans. They keep a low profile so that humans don't hunt them down, and some of them are very powerful. In Houston's take on vampire lore, it's the "Vyrus" of ancient origin that makes these creatures what they are—and that disease is almost a character all its own.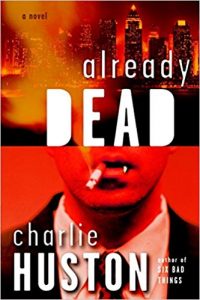 As the book opens, the borough is suddenly and mysteriously filling with zombies. They're of course too witless and hungry for brains to stay out of the public eye, and any kind of attention to them could expose the vampire underworld.
Who ya gonna call? Joe Pitt. He's a freelancer, not strongly connected to any of the clans, but a killer for hire. He's tough, foul-mouthed, and funny. His case in the first book of Houston's series involves a young runaway and finding out where all those zombies are coming from. Who's infecting them, who is Zombie Zero? How is the missing girl mixed up in this hot zombie mess?
Like every good PI sleuth, his hunt brings him into conflict with unseen forces, and cynical, hardboiled Joe gets rubbed the wrong way by condescending rich people—another staple of the genre. He's hassled by thugs, too, of course, one of whom still says with admiration, "Joe don't take nothing from nobody, good or bad."  Like Humphrey Bogart and ever classic sleuth, he take a lot of damage.
Pitt is armed with amazing abilities to analyze all the scents in a room and to see in the dark, which make him dangerous and also fascinating. His infected blood also helps him recover from all the beatings you expect a PI to get and makes him incredibly strong, but one of his best weapons is his mouth: he's got a smart-ass line for almost every occasion. Like when someone asks if he has a moment:
"Perhaps I have a whole shitload of moments. Perhaps I have moments squirreled away all over the place, and perhaps I plan to keep them for myself. What of it?"
The book is told in his voice and Houston's made him one of the best story-tellers you'll ever meet, in the dark or anywhere else….
Lev Raphael is the author of The Vampyre of Gotham and 24 other books in genres from memoir to mystery.  He teaches creative writing online at writewithoutborders.com."Studying creative writing with Lev Raphael was like seeing Blade Runner for the first time: simply incredible."
—Kyle Roberts, MSU Class of 2016