Working on my most recently published book, I ran into a significant problem.  To move the novel forward, I needed my protagonist to have a confrontation with a minor character.  I knew what this woman's role was in the book and how she drove the plot forward.
But the woman herself was a blank.  I had no idea what she looked like, what she sounded like, what kind of house she had.  None of that was real.  And so I did when I've learned to do after many years as an author: I let go.  Consciously, that is.
I knew I would be musing about it freely and without stress if I focused my attention elsewhere.  Walking my dogs was one choice.  Working out at the gym was even better.  Freeing my mind and focusing on repetitive physical activity (treadmill, weights) has always helped me write.  Even if I'm not consciously writing, my subconscious is beavering away at the problem,  pondering the questions I've posed myself.
After a few weeks, the answers came to me when I did something a bit different: I worked out three days in a row instead of taking a day off between workouts.  Suddenly I could see this woman limping up to her front door past the impatiens.  I knew why she had planted them, and why she limped.
Better still, I heard her speaking her first line to my protagonist, and once he answered, the scene took off.
But I didn't head right to my PC or make any kind of notes.  I let the scene build.  Adding layers and complications.  Making connections with other parts of the book.  Many words, many realities.
After so many years of writing and publishing, I knew my own process well enough to know that I wasn't ready.  I wanted to have a draft in my head since the scene  would anchor a whole chapter and push the book to its dark climax.
Writing isn't just the physical act of clicking keys or wielding pen or pencil or even dictating.  It takes place invisibly–to everyone else but us authors.  That's why it sometimes feels so magical.  And that's why it's often hard to answer the question "What are you working on?"  I often don't want to say, and sometimes I'm not entirely sure.
It's actually a lot easier when someone asks me "Are you writing a new book?" My reply is "Always."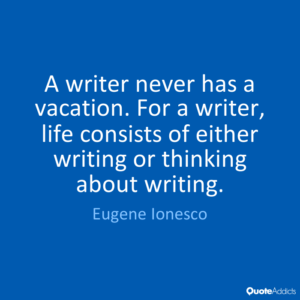 Lev Raphael is the author of Hot Rocks, a health club mystery, and 24 other books in many genres.  He teaches creative writing at Michigan State University.