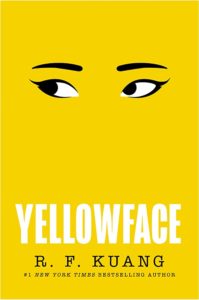 My European-born mother was given to making pronouncements about life in the U.S. that were halfway between a judgment and an epigram. One of my favorites: "There is no such thing as enough in America."

I thought of that while reading  the entertaining Yellowface, in which a struggling author, June Hayward, steals a manuscript from her famous, best-selling Chinese-American friend after she dies.  June fills in gaps, polishes it extensively, and gets it published as her original work.  She becomes a huge success, but every thing she gains makes her hungry for more.
It's initially great fun to watch her first rave about the stolen manuscript, then slowly find fault with it, then fix the problems she sees and tone down the excesses, and finally claim that's it's undeniably hers because it's so much better.  And isn't she doing her friend a great service in making it a better book?
Selling the novel turns her world upside down and June is overwhelmed by her good fortune: a vast amount of money, a publishing house that really cares about her, headlines everywhere she turns, best-seller status, great reviews, profiles in prestigious magazines and newspapers, strangers recognizing her.  She becomes a celebrity author, though she knows that it could just as easily have been someone else who was picked to be turned into a star. 
The downside is her incredibly masochistic addiction to reading everything she can about herself in print and on social media, which can either be a serotonin boost (as she's overly fond of saying) or infuriating when she's accused of cultural appropriation because she's white and the book is primarily about Chinese laborers in France during WWI.
Kuang certainly knows how to mock the publishing world as well as Robert Harris does in The Ghost Writer, and she takes special aim at complaints of cultural appropriation that will remind you of the controversy over American Dirt.  She also eviscerates what Joni Mitchell called "the star-making machinery" that elevates certain writers for other reasons than the quality of their books.
Yellowface can be read as a sort of mystery-thriller because as soon as June steals the manuscript and decides to publish it, you feel a clock ticking: won't someone discover her fraud and shame her–or worse?  Of course, it doesn't take long for the predictable Twitter mobs to attack her, and the waves of Twitter warfare in this book are exhausting.
You may be wondering if the book ever explains why June steals Athena's work, and the real answer goes beyond jealousy in a devastating set of revelations. 
Given that Kuang is the kind of megastar author who dies in this book, is her satire of the struggling friend empathetic or cruel?  That's one question.  Another is the revised, stolen novel itself.  When June shares some sections of the book that she actually wrote (bragging about their brilliance), the writing doesn't seem stellar, yet she claims the audience is under her spell.  Why didn't Kuang's editor pay special attention to those passages to make them more convincing? 
As reported in The Washington Post, this novel "is now at the center of a real-life publicity frenzy, its cover gracing tote bags, railway ads and a giant mural at the London Book Fair."  That's the kind of PR that June gets in the novel for her book.
Yellowface interrogates friendship, jealousy, the randomness of fame, and the truly bizarre realities of publishing today.  The last half really gathers steam and elevates the book above satire.  After you finish, you might well decide to cut Twitter loose and give up doom-scrolling forever.  If you can. . .  ★★★★
Lev Raphael has reviewed books for The Detroit Press and many other publications.