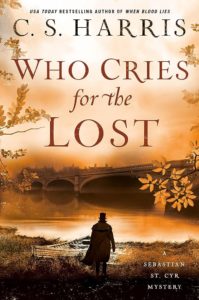 C.S. Harris is a fantastic novelist. Her characters are richly observed, her dialogue is evocative, her plots are exceedingly well wrought, and she excels at atmosphere: you see, feel, and smell every scene in a kind of 3-D. Reading one of her books is immersive, it's time travel, it's magic.
Harris's understanding of the Regency era is remarkable for its depth and range, and she is one of the few authors whose series I've stuck with over time because she isn't disappointing.
Her glamorous, debonair nobleman is Sebastian St. Cyr, Viscount Devlin. He is gifted with "hearing and night vision" that are "unusually acute" and they help him investigate murders–and sometimes outwit stalkers. He's also a master of disguise, but he's no Marvel superhero. In fact, Devlin starts off the 18th book of the series with a profound and troubling disadvantage: a painful leg injury that's likely to keep this ex-soldier from crossing the Channel to Belgium where "the armies of Europe were massing for what would in all likelihood be one of the most decisive battles in history." 
He badly wants to join former comrades, but that isn't on the cards, despite the looming menace abroad. Napoleon has escaped Elba and been welcomed back to power in France with jubilation. The exiled emperor's shadow has fallen again over Europe–and it has surprising power over Devlin as he becomes entangled in a twisted tale of mutilated corpses, espionage, secrets of seduction and betrayal, witchcraft and werewolves. 
Suspects abound and they could well be French assassins from any number of rival factions.  He himself is attacked and warned off in classic PI style by a huge thug and an oily villain.  As you'd expect, he acquits himself well; even with his injury, St. Cyr is not an easy mark.
One of the best aspects of this series is its social range. Between St. Cyr and his amateur journalist wife Hero, we meet people of all ranks in Regency England: actors, fortune tellers, politicians, aristocrats, thieves, men of the law, servants, governesses, thugs, inn keepers, soldiers, beggars, ferrymen, sailors, merchants, tradesman, vagabonds and many more.  We travel through a London that has disappeared like Atlantis, with Harris as our guide. 
Built with short, punchy chapters, this book has it all: mystery, scenery, adultery, luxury, poverty, cruelty, zealotry,  hypocrisy, bravery.  And the series consistently has some of the most beautiful book covers around.
Lev Raphael is the former crime fiction reviewer for The Detroit Free Press and has reviewed books at Salon, The Washington Post, Huffington Post and other publications.