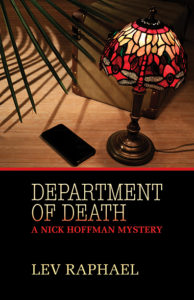 When I do readings from my mystery series, people ask, "Are universities as loony and vicious as all that?"

Yes.  Absolutely.  And how do I know? Because I didn't just escape that world with lots of notes, I have friends who are still there, reporting fiction-worthy incidents on a regular basis.

One chair I heard of had a bizarre approach to resolving a conflict between two professors: He suggested that the two of them get drunk together at the annual Christmas party and all their problems would be resolved—they would be friends forever! That's on the ludicrous side, to be charitable.

Another held academic cage matches. Adjuncts competing for the possible tenure-track positions that might, just might be opening up each year had to present their work-in-progress every week (!) and put it in the best possible light and hope they'd win the prize. The pressure was intense, the competition ugly and brutal. Then there's a department chair I heard of who revealed personal psychological information about a professor during a department meeting while supposedly "worrying" about her mental state, totally violating that professor's privacy.

There's another who knew a faculty member was going to complain about his disregard for university regulations and not only tried to stop her from a formal complaint at a university committee, but sat behind her at the meeting along with one of his henchmen and muttered derisively when she read her statement, trying to intimidate her.

A religious studies chairman I was told about argued with a rabbi teaching as an adjunct in his department–a rabbi!–that Judaism was absolutely not a culture, but could only be spoken about and taught as a religion. The rabbi was fired for disagreeing.

When my office mate at Michigan State University reported that a graduate student in the department who was an ex- burst into her apartment, roughed up her current boyfriend and threatened her, the department chair did absolutely nothing.

And reports from another department I know of describe the current atmosphere as "Stalinist." While there's significant disapproval of actions the chair is taking to limit academic freedom and free speech, faculty members who disagree are afraid to speak up for fear of harassment and punishment. The faculty listserv is now off limits to discussion of anything remotely "controversial."

My Nick Hoffman series is satirical, extrapolating from real situations and making them more ridiculous and threatening–but the emotional core is ultimately true.  The psychological toll this kind of rampant and widespread abuse of various kinds can take is also true.

There's no evidence that George Bernard Shaw actually said "If you want to tell people the truth, you'd better make them laugh," but whoever is the source, that quote has guided me through my series and will continue to do so.


Lev Raphael is the author of 27 books from mystery to memoir.  His latest book Department of Death just earned a starred review from Publishers Weekly.  It will be available only until the end of 2021.