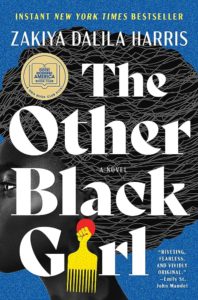 As a book reviewer, you can often feel like you're on a high-speed train missing all the terrific possible stops along your route. People wherever you go mention books that you somehow never got to read read or read about because you're too damned busy reading and reviewing other books. 
Back when I worked for half a dozen different publications, I remember weeks where I was reviewing three or more books on deadline and either reading or writing with no break whatsoever. Okay, I did eat and go to the john.  And maybe hit the gym, but in my head I was always thinking about the next review–and the one after that–and the one after that.

So I confess I missed the bravos for The Other Black Girl, but I am here to tell you that it is a laugh-out-loud, gorgeously written, and effing brilliant satire of the publishing world–and much more.  I love this powerful novel and I envy the author her style, her humor, her satire, her poise.  She is stone cold amazing. And for those readers who think MFA programs turn out cookie-cutter writers, guess again.  She is an original.
The set-up is great: Nella, whose name recalls the Harlem Renaissance novelist Nella Larsen, is the only Black editorial assistant in the prestigious Wagner publishing house.  A publisher whose mail room staff is all people of color but whose editorial, art, and publicity staff are all uniformly white, many of them quite privileged.  Nella's little cubicle is a lonely place, and "blacksplaining" cultural realities and events to her White colleagues often works her last nerve. 
She's not a legacy hire and though her family was comfortable, they weren't wealthy and that helps isolate her even more–at least in her own mind.  She's also not happy being stuck at a low pay grade, though she loves the work, most of the time.  Enter Hazel, a much hipper Black editorial assistant with whom she feels she can (and should) bond, but things quickly get weird, competitive, and creepy in the extreme.
The author worked at Knopf for three years so she has an inside track on creating a workplace filled with kooks and quirks, competition, hypocrisy and back stabbing.    Like so many organizations today, Wagner makes feeble attempts to embrace diversity and the author's wit here as elsewhere is stiletto-sharp.  The satire is never laid on too thick, however, and Nella is a wise, weary hero to admire and root for.
And so you feel you're deep in a novel about workplace competition, Black solidarity and White cluelessness/condescension–until the book expands way beyond what you might expect when we learn the meaning of the title.  That's when the book plunges deep into an alternate, hair-raising reality and the register becomes fantasy-horror.  It's a dazzling switch and I was glad that I put everything aside this weekend to read the book straight through.  The Other Black Girl is a knockout debut.
Lev Raphael, author, editor, and teacher, is a prize-winning publishing veteran.  His 27 books span genres from memoir to mystery.