The new Netflix original mystery series Elite is set at a posh high school near Madrid where "the leaders of tomorrow" are being trained to take their rightful place and rule the world.  How posh is this school?  It looks like a cross between a contemporary art museum and a tech company's headquarters.
One of the oldest plots in the world is the entrance of somebody new into a closed community.  Here it's made fresh via three lower-class students who've been given a year's tuition in a PR move, because their old school's roof collapsed thanks to shoddy construction.  The builder involved is determined to salvage his reputation and he's behind placing these students at the same school his son and daughter attend.  He's corrupt, of course, and his scheming sweeps up lots of innocent people over the course of eight episodes.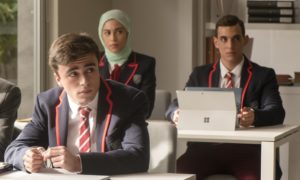 To make the situation even dicier, one of the new students is a Muslim teen who wears the hijab–until she's ordered to take it off or be expelled. She hides this from her parents, but like all the secrets in Elite, it's unexpectedly revealed. Bigotry and religious conflict are recurring themes in the series, tightly woven together with the much more intense simmering class conflict that leads to violence.
Elite isn't just another teen drama fielding a good-looking cast, it's a crime show whose structure is reminiscent of How To Get Away With Murder and Inside Man.  We find out right off that someone's been killed and the murderer isn't revealed until the last episode.  All the kids are quizzed by the police in tight close-ups about what happened leading up to the murder and about their tangled relationships. These kids are very mature, with adult passions, obsessions, and anxieties–all of which makes the arguments with their parents even more compelling and the series compelling and unique.
Lev Raphael is the author of the Nick Hoffman mysteries and many other books in a wide range of genres.  He teaches creative writing online at writewithoutborders.com