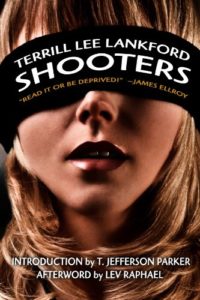 Get ready for a rough and extremely raunchy ride: Terrill Lankford's Shooters is a propulsive, hypnotic, sexually explicit, blistering exposé of the American hunger for more, more, more.  A hunger that leaves people empty inside, desperate for meaning–no matter how gilded their cage might be.
This thriller has the sheen and danger of that classic cult film The Eyes of Laura Mars, which it cleverly echoes.
Arrogant Nick Gardner's the same kind of fashion photographer as Faye Dunaway's character, creating advertising photos that simmer with violence and eroticism.  But he's much rougher around the edges.  Highly promiscuous, Nick is the kind of guy who'd "rather have sex with a complete stranger than kiss a friend with meaning."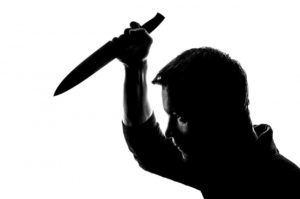 He's a self-confessed "asshole" who loves showing off his mad driving skills in his Lamborghini and the ultra-hot women who want to ride along.  Think of him as a  foul-mouthed Gatsby with a dark past and an even murkier future. 
Nick has made it big in his field, but he's keenly aware of how fragile success can be in a city littered with failures.  Musing about all the people who linger in Los Angeles even though their dreams have died, he thinks:
"The city is like a terrible drug.  Addictive in the worst way.  Everyone hates it, yet most of them stay no matter what the cost.  Some manage to leave, only to return a year or so later.  Very few have the intestinal fortitude to kick the insanity for good and live elsewhere.  The dream is always there, a brass ring only inches outside their reach."
There you have a perfect diagnosis of  our cultural sickness, more than fitting for our dark times in 2020.
The book opens with the threat of wildfires engulfing parts of the city and that threat hovers over everyone and everything until it explodes.  It couldn't be more emblematic of the fire inside Nick and everyone he meets.  They're all burning for something: drugs, sex, thrills, money, success, fame.  Some will be destroyed.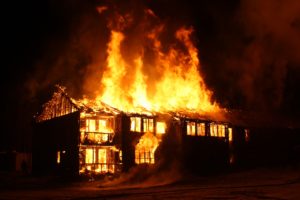 Feeling blocked one day at work, Nick hits a party he shouldn't attend and leaves with a hot blonde coke fiend he should never have even talked to–but of course he can't resist.  Their orgiastic, drug-crazed night ends badly and Nick ends up traveling down some surprisingly mean streets to solve a crime he's the prime suspect for.

Following his violent stint as an amateur private investigator, we learn about his unsavory past in a town filled with ugly secrets.  Some of them are not for the easily shocked.  Nick is an anti-hero whose trajectory in the novel is always down, and justice is served in unexpected ways.
In all my years reviewing crime fiction for The Detroit Free Press, this is one of the only thrillers I've wanted to re-read on a regular basis.  It never fails to blow me away, which is why I'm thrilled to have been asked to write the afterward to the Kindle edition.   The writing is fierce, brutal,  unrelenting–and unforgettable.
Lev Raphael is the author of 26 books in genres from memoir to mystery, including the recent State University of Murder.
Knife: Image by PublicDomainPictures from Pixabay
Fire: Image by Николай Егошин from Pixabay