When I'm on a book tour fans often ask me "What are you reading?"  I get the same question when I teach a creative writing workshop or master class like I just did at Oakland University, sponsored by Rochester Writers.  I'm often reading books that will inspire me to write and lately I've been-re-reading favorite authors like Martin Cruz Smith.  His novels set after the fall of the Soviet Union explore a country that's just as cruel and dangerous, but one where oligarchs are becoming swollen with daring, arrogance, and billions in wealth.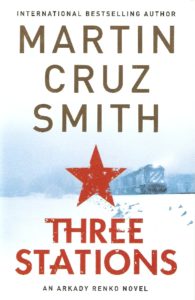 In Three Stations there's a gigantic contrast between diamond-studded luxury goods and homeless kids stealing whatever they can to survive in the heart of Moscow. Arkady Renko is a disgraced police investigator with a clear eye for what's happening around him and a dedication to justice. Though he's the son of a famous general and communist, he is truly an outsider because he won't follow orders. I'm really glad I missed this one somehow as I worked through the series, because I found it really inspiring.
And for authors who struggle with writing good sex scenes, he dispatches one in a brilliant paragraph that could be a model for anyone. It inspired me in my stand-alone currently about 200 pages along which will be my 28th book.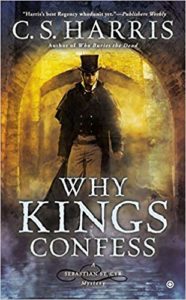 I'm also re-reading luminous, thrilling mystery novels by C.S. Harris set in Regency England, starting with Why Kings Confess, one of my favorites in the series.  These books feature nobleman Sebastian St. Cyr who has access to all levels of society and is indefatigable in solving any crime that he comes across and intrigues him.  He's a dashing figure with almost magically keen eyesight and hearing, and a man not remotely averse to challenging the rich and powerful.  Harris is brilliant at evoking the period through appealing to sight, sound, and smells–you can almost taste the acrid fog that's so much a part of the era when coal was burned indiscriminately.  Who even thought of climate disruption back then?
The two authors are very different in setting, tone, and prose style.  Harris is more sensual, Cruz is more spare.  Cruz's books ooze cynicism about old and new Russia's corruption and greed, while Harris fields a sleuth who serves justice and believes it exists.  Both authors evoke their time and place with dazzling detail and tell fast-paced, gripping stories.
I learned years ago in my writing career that what could stimulate and inspire my work was a creative clash of voices and styles.  Reading these two different authors again right now has made me very productive: I wrote two chapters of my next mystery in under a week.  This method of reading different writers in succession might not work for everyone, and that's something I tell all my writing students and workshop participants: find what works for you.  But whether you're a writer or not, C.S. Harris and Martin Cruz Smith are authors you should add to your TBR pile.

Lev Raphael is the author of 26 books in many genres which you can find on Amazon, most recently State University of Murder and Let's Get Criminal, newly released as an ebook.  He teaches online writing workshops at writewithoutborders.com.