I started reading crime fiction in high school: Agatha Christie, the Swedish writing team Maj Sjöwall and Per Wahlöö, John Creasey, and the comic work of Phoebe Atwood Taylor.  I wasn't great at solving puzzles, but I was always fascinated by what would actually drive someone to murder.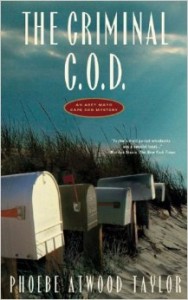 That fascination took a different turn when I started reviewing crime fiction for The Detroit Free Press in the 1990s and continued to do so for about a decade.  Motive now wasn't just something to study, it had to to be convincing, it had to fit perfectly into the entire clever construction of plot–or the carefully-built edifice buckled and sometimes even collapsed.  Reading crime novels where the motive for murder or mayhem was weak made me determined to ensure that my own mysteries never fell short that way.
And because I watch a lot of crime drama on TV and crime movies, I'm often thrown when a motive just doesn't seem believable.  Case in point.  In a recent episode of Forever, whose sleuth is a medical examiner, a ballerina's foot was found at a theater.  She was initially presumed dead until it was forensically determined that the foot had been surgically removed so as not to kill her.  Weird, right?  The suspects narrowed down quickly to her ex-surgeon brother and all the evidence was discovered in his home.
But why?  Jealousy?  That didn't add up.  They'd escaped Cuba together so she could have a great career and she on the point of stardom, about to be dubbed a prima ballerina (the show actually got this wrong, mistaking a prima ballerina assoluta for a prima ballerina)
There's a good chance in crime fiction that the "least likely" suspect is the one who did it, and when she was was found alive, I couldn't imagine why she would have had her brother do it.  But she did, and here's the bogus motive the writers came up with: 1) she had a degenerative bone disease and 2) she had only a year to dance and so 3) she wanted to go out in glory and be remembered forever that way.
I've known dancers and I thought this was ludicrous.  What dancer would consent to having her foot cut off even if she wouldn't be able to dance again?  What person would consent to such horrible mutilation and be left crippled for the rest of her life?  Nothing about the character made her seem unhinged enough to do something so radical.
Sometimes crime writers of all kinds try so hard to be original or surprising that they end up just coming off as ridiculous.  This was one of those times.  She was still able to dance and she could have danced with the title and then retired for whatever reason and remained legendary.  Now she's a legend in a freakish way (and is missing a foot!).  Why would any dancer want to be remembered like that?
Lev Raphael's 25th book is the Michigan bestseller Assault With a Deadly Lie.  You can read about his other mysteries at his web site.