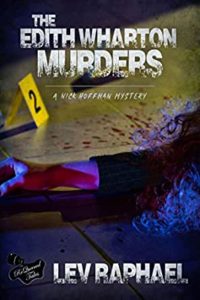 The New York Times ruled in my family when I was growing up in Manhattan.  My mother especially loved the Sunday Magazine articles, my brother relished the daily puzzles, and I enjoyed reading book reviews and features about authors.
I wanted to be an author myself as early as second grade, when I started writing short stories.  And of course, I wanted to have a book of mine reviewed in the Times, someday because I thought that would be the ultimate sign I had made it.
Well, years later, I was heartbroken when I heard from a writer friend that he had heard my first book of short stories was going to be reviewed there.  I waited and waited, but nothing happened.  Then I published a biography and study of Edith Wharton's fiction.  No review.  Two strikes.
At that point, I was discouraged enough to think I would never be reviewed in the Times.  I should have taken hope from lines Russian poet Joseph Brodsky wrote:
But, as know, precisely at the moment/when our despair is deepest, fresh winds stir.
One Monday, I got a call from my agent that my second mystery had just gotten a rave review from Marilyn Stasio, the most important mystery reviewer in the country.  My agent's assistant faxed it to me and as I read the review, I actually jumped up and down for joy.  Friends started contacting me, my editor was thrilled as was my publisher, and I started hearing reports that the book wasn't just being shelves in Mystery and Gay Literature sections in bookstores, but sometimes in Fiction right next to Edith Wharton.  And face out, which makes a big difference when it comes to sales.
The review offered great pull-quotes like this one:  "Killing is too kind for the vindictive scholars in Lev Raphael's maliciously funny campus mystery."  And because it was in the New York Times, publishers would use various parts of the review on  mysteries I'd write after that one.  Likewise, many people introducing me at events where I've done talks and readings have referred to the review.  It's a kind of touchstone, even though I've gotten many more good ones in other newspapers and magazines since then.   The Times is that impressive.
The Edith Wharton Murders has recently been re-published with a gorgeous new cover, a foreward by noted author Gregory Ashe, and an introduction the publisher asked me to write.  Seeing it reborn brings back the thrill of being a new author having his biggest dream come true.
Lev Raphael is the author of 26 books in genres from memoir to mystery.  His work has been translated into 15 languages, and Special Collections at Michigan State University's Library archives his literary papers.