I picked my college in New York for one main reason: I had heard about a young, amazing creative writing teacher there I wanted to study with.  That was the smartest decision of my life.  I took every course she taught, writing or literature, and she mentored me both as a writer and a teacher.
Her style was remarkable: she was funny, relaxed, had a high tolerance for what might seem like chaos to some people.  I remember once a professor from another class actually complained that we were too boisterous in her class.  We were just having fun.
I found her consistently, quietly determined to bring out the best in her students.  She was never censorious or arrogant, and in workshops she somehow managed to help us revise our fiction without turning it into something different.  Without making it like what she thought it should be.
For the last six years I've been teaching creative writing again at Michigan State University as a guest and I've had wonderful, smart, talented students–and been lucky to do independent study or senior theses with some of them.  Even better, I got to teach a six-week summer program for MSU students in London.  The writing class blended fiction and creative non-fiction and the focus was writing about difference, examining themselves as Americans in London and also studying English culture as outsiders.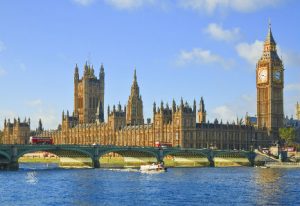 We read Bill Bryson's hilarious book about England, Notes from a Small Island along with Miranda Seymour's powerful memoir Thrumpton Hall and Val McDermid's expert collection of short stories Stranded.  Both Seymour and McDermid were able to visit the class and talk about their work, which was a unique experience for all of us.
We faced some obstacles.  London underwent a heat wave, and our classroom was cramped, airless, and on the broiling west side of a building whose lawn was occasionally the scene of noisy events nobody warned us about.  Acquiring a fan  proved to be impossible.  Don't ask me why.  We even had to deal with power drilling and hammering in the basement below us at one point.  But the students were good-humored.  More than that, they were inventive, supportive, hard-working, talented–and there were only sixteen of them.  That's close to an ideal size for a creative writing class.  It allowed them to bond quickly around their writing and get to know each other's styles and strengths intimately.
I encouraged everyone to take risks in their work, sharing times in my career when I did so myself, and I watched students develop astonishingly in the short weeks we had together.  Some of them told me afterwards I inspired them, but they inspired me, twice, to write short pieces that I shared with them.
When it was over, I felt grateful that I'd had a writing mentor in college who had modeled dedicated, patient, relaxed, non-bullying work with students. And modeled not changing what your students write but doing your best to bring it into fuller bloom.  That isn't easy.  You have to be present, focused, and aware–but it's amazingly rewarding, and an amazing high when it goes well.
My mother was a teacher In Brussels after WW II, and when I met a group of her former students while doing research there for a book, they told me that sometimes she would get so excited in class that she would just hug herself with delight.  I know exactly how she felt.
Lev Raphael is the author of 25 books in many genres, including the guide for writers, Writer's Block is Bunk.  You can take creative writing workshops with him online at writewithoutborders.com."Studying creative writing with Lev Raphael was like seeing Blade Runner for the first time: simply incredible."
—Kyle Roberts, MSU Class of 2016