My answer: Teaching it!
I had been a fan of historical fiction for a long time and when I discovered Bernard Cornwell's Saxon Tales, I was in heaven.  The return of The Last Kingdom to Netflix reminds me how wonderful it was to assign that book for a class reading popular fiction in a wide variety of genres.
The hero is Uhtred, a dispossessed young noble from northern England in the 9th century, during the reign of King Alfred. Uhtred is descended from kings but his rightful claim to an impregnable fortress where he grew up has been usurped by his uncle, and Uhtred is burning with the desire for revenge.  It's what obsesses him through the entire series.
Alfred was known for his piety, his strategy, his culture, and his determination to drive the Danes from his realm of Wessex in southern England and the other kingdoms England was then divided into. Glamorous, hot-tempered, man-of-action Uhtred has a complex relationship with this intellectual, pious king whom he ends up being bound to in life-changing ways.  Breaking an oath of allegiance in this period was more than dishonorable–it could brand you for life as untrustworthy and shameful.
"The world began in chaos and it will end in chaos.  The gods brought the world into existence, and they will end it when they fight among themselves, but in between the chaos of the world's birth and the chaos of the world's death is order, and order is made by oaths, and oaths bind us like the buckles of a harness."
Uhtred has grown up with a split identity: raised English, he was captured by Danes as a child and identifies as a Dane, which makes for tremendous conflict, both internal and external. He's a part of both cultures, both peoples, and lives out his cultural conflict almost daily with most of the people he meets.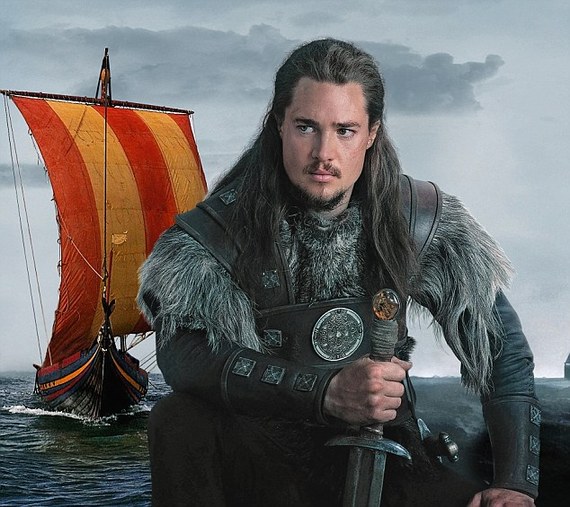 Teaching the first book in the series, I had students talking about expectations and conventions in historical fiction, which many of them hadn't read before.  We moved on to discussions of Cornwell's use of sense detail, his honest depiction of violence, the role of women in both Saxon and Danish societies as he portrayed it, the impact of the story being told by a first person narrator.   Many of them were put off at first by the alien cultures but soon found themselves compelled by the story telling.  I fell in love with the book all over again during the two weeks we spent discussing it with my students.  It felt new, fresh, and exciting.
TV reviewers are telling readers that this show is a good stand-in for The Game of Thrones.  Maybe.  The books couldn't be more different.  Martin is a genius at world building on an epic scale, but Cornwell's books are tighter, move faster, and with rare exceptions stick with the same point of view so that you're immersed in just one character.
The Last Kingdom is a brilliant mix of deep psychology and high adventure.  It's hooked me all over again and I've started re-reading book two in the series….
Question: what book have you been re-reading lately?
Lev Raphael is the author of 25 books in many genres and teaches creative writing workshops at writewithoutborders.com