On my first trip to France, I spent a week in the Loire Valley based at a chateau hotel whose restaurant had a Michelin star. Everything was impeccable and the first night, when the owner asked how I liked my meal, I surprised myself by responding "J'ai tombé en extase" (I'm in ecstasy). It's a line I must have read in one of my many French classes over the years and suddenly remembered.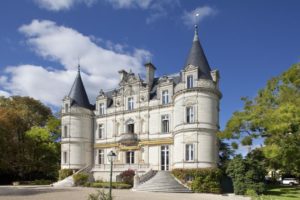 Well, I felt like that this past weekend dining out on Catalan tapas at Mercat a la Planxa on South Michigan Avenue, a few blocks down from the Art Institute, on the second floor of the Blackstone Hotel. The setting couldn't be more different: it's a large, high-ceilinged crescent-shaped room with mosaic tiles on the wall above the kitchen which match the room's decor of browns and orange.  You step down into the dining area and feel that you're both cozy and on stage. The food was appropriately theatrical in presentation and dramatic in taste.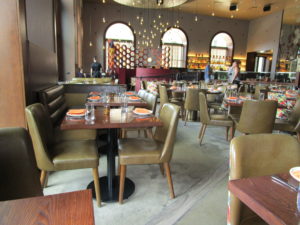 I sampled figs wrapped in bacon; cannelloni filled with short ribs, foie gras, and truffle béchamel; potatoes with salsa and chili oil; and several more. All of them were mouth-wateringly delicious, and my server wisely suggested I go with an Albariño, a sturdy, dry white wine I'd had once before at a local tasting dinner in Michigan. My dessert was an outrageous crème brullée topped with a scoop of pistachio ice cream and there were Marcona almonds in the mix. It was chewy, sweet, and salty.
I was on a mini-vacation after having written three chapters of a new mystery faster than I expected, and this felt like a fitting reward for hard work, and inspiration to keep going.
There was more fine dining ahead. The next afternoon I had lunch with old friends at Terzo Piano at the top of the new wing of the Art Institute. It's a cool, clean space of white and grey which in a way matches the elaborate stonework of the Gilded Age buildings you can see on Michigan Avenue. It's like an aerie.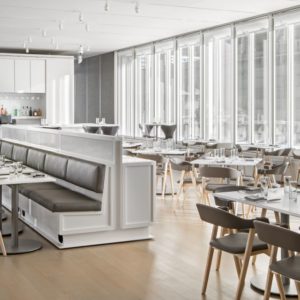 The menu was small and select and while waiting for my friends I feasted on goat cheese fritters which were so good I made sure to save some for them–though the temptation not to was strong. When my friends arrived, two of us ordered crispy eggplant with a cashew dressing. It was very subtle, the presentation and service lovely, eye-catching.   I had just seen the Institute's sublime Manet exhibition of late portraits and still lifes and felt that I had entered a painting myself, perhaps a David Hockney.
The restaurants were unique in style and cuisine, and each offered a celebration of fine food beautifully and lovingly prepared.
Lev Raphael loves to travel and he's the author of 26 books in genres from memoir to mystery, most recently State University of Murder.  He teaches creative writing online at writewithoutborders.com.