Noted journalist Andrea King Collier recently interviewed me ahead of A Rally of Writers where I'll do a workshop on "Finding Your Sleuth."
AKC: How much time do you spend on research? What's the first thing you do when you start? How do you know when it's time to just stop?
LR: I'm currently writing two novels and my research has involved interviewing experts in fields like medicine, law, advertising, and academic administration for insight into their jobs and more specifically, to answer "What if–?" questions. I don't stop to do that, I like to keep writing while I wait to fill in the blanks, so I could be doing research even near the end of a book.  I often don't know what I don't know when I start a book, so that's exciting.
AKC: You write mysteries among other genres. How do you hone in on what the next story might be?
LR: The stories usually come to me. And some days I feel like an airport dealing with planes that have been diverted because of bad weather: there are too many ideas buzzing around in my head. State University of Murder was partly inspired by the sexual assault crisis at MSU and the way other campuses have also been dealing with this issue. But I didn't want to fictionalize any specific story in the news. Instead, I wove that theme into a book whose larger target is malfeasance and arrogance at the level of administrators.
AKC: Do you plot your mysteries or are they organic?
LR: It's both. With a mystery I generally know three key things when I start: who's been killed, how they died, and who the killer was. So I plot ahead, but not as far as I did when I started the series and needed more scaffolding. Each book now is organic because I keep asking myself "What happens next?" And I may decide to change the means, the motive, and even the murderer. It all depends on how the book evolves.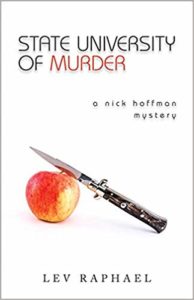 AKC: How do you silence your inner critic?
LR: I'm lucky.  That's never been a problem for me because I had such an amazing creative writing mentor in college whose voice is still with me when I write and when I teach. Of course I have my doubts about every book I write or I'd be a jerk, but they don't discourage me. The doubts push me to work harder, think smarter. If I get stuck, I don't despair.  I know that it's usually because there's a question in the book that I haven't answered well enough for myself to move forward.
AKC: Who do you love to read?
Dozens of writers old and new. When it comes to mysteries, I especially enjoy Martin Cruz Smith, Sue Grafton, C.S. Harris–all very different, and reading voices that collide inspires me. Right now I'm re-reading some books by D.H. Lawrence because his insight into his characters is wild. I'm a big fan of other modern authors like Virginia Woolf, Isherwood, and Evelyn Waugh. I also read a lot of novels in translation, with Zola and Balzac my favorites in that category.
AKC: Tell us about your online coaching classes
LR: I have almost twenty years of university teaching behind me and I've taken that experience online where I can mentor writers working on individual projects in any genre, and people signing up for a specific workshop, like my next one about mystery writing, which runs for the month of June. In each workshop and each interaction with a writer, I'm passing on the guidance and encouragement I got in college, and I add my own experience as a teacher, reviewer, and author.
Lev Raphael is the author of 26 books in genres from memoir to mystery.  Lev teaches creative writing workshops and offers editing and mentoring at writewithoutborders.com.  In June he'll be teaching Mystery Writing 1.0.